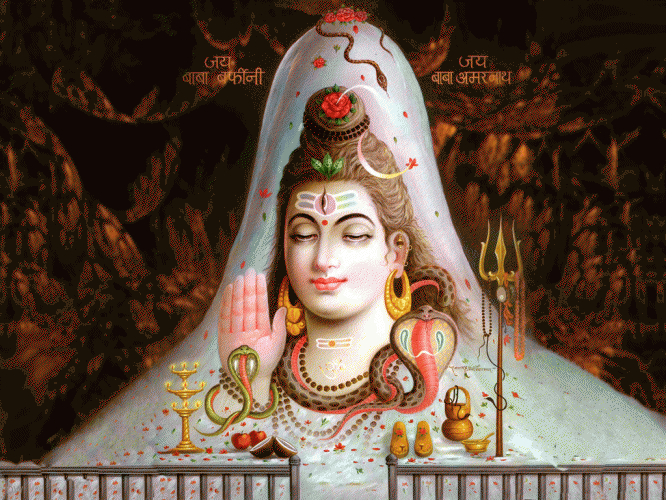 ---
What Is Amarnath Yatra?
The annual pilgrimage starts from Srinagar and Pahalgam and ends at the Amarnath cave temple which is located at an altitude of 3,888 metres, about 141 km from Srinagar. The yatra attracts lakhs of pilgrims every year who visit the site during Shravani Mela in July-August (Shravan month in Hindu calendar). Considered as one of the holiest shrines of Hinduism, the Amarnath cave was chosen by Lord Shiva to reveal the secrets of the creation of the world and immortality to Goddess Parvati. According to Shri Amarnath Shrine Board, 2,85,006 visited the shrine in 2018. The Board is responsible for the management of the Amarnath Yatra. The pilgrimage takes up a lot of state administration's time and there is a deployment of heavy security during the yatra. With a need to man the entire national highway from Lakhanpur to Kashmir Valley and other routes like Baltal and Pahalgam with security forces, the state administration starts deploying personals at least 15 days prior to its commencement.
When will Amarnath Yatra start?
60 days long Yatra 2020 would commence on 23nd June 2020 upto 3rd August 2020, on the auspicious day of Jyestha Purnima, as per Hindu Calendar, and, as per continuing tradition, conclude on Shravan Purnima (Raksha Bandhan) on 3rd August, 2020. The Yatra trek through the mountains of south Kashmir Himalayas to the Holy Cave Shrine of Shri Amarnathji is made available only in the months of summer to pay obeisance. In the month of Shravan (July - August) the Holy Cave Shrine of Shri Amarnathji has the devout flock, where the image of Lord Shiva, in the form of a Lingam, is formed naturally of ice - stalagmite, and which waxes and wanes with the moon. Shri Amarnath Yatra is for a specific period/ duration, commencing on an announced date, usually on, the auspicious day of Skandshasthi as per Hindu Calendar, and shall conclude on Shravan Purnima (Raksha Bandan).
How do I get to Amarnath by helicopter?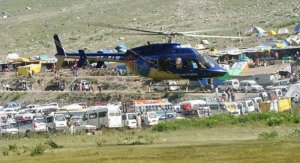 You need confirm your helicopter tickets before schedule. You can book your yatra package with confirmed helicopter tickets now from Pala Holidays or Call: +91-7006 904 605. Advance booking started on 27th April 2020. What is the cost of Amarnath Yatra helicopter ticket? The per passenger one way heli- fare for Amarnath Yatra 2020 starts from Rs. 1804/- for the Neelgrath-Panjtarni and Rs. 3608/- for return air fare from Neelgrath to Panjtarni to Neelgrath.
Helicopter Booking price from Pahalgam to Panjtarni Route per passenger onway air fare is Rs.3102/ and the return air fare from Pahalgam To Panjtarni To Pahalgam is Rs 6204 per passenger per trip.
4 Days Amarnath Yatra Plan with Helicopter
Day 01: Arrive At Srinagar - Transfer To Sonmarg
Our services start with your arrival at Srinagar Airport. Meet and greet by our airport representative. Transfer to Sonmarg. On arrival check-in at Hotel. Rest of the day free to relax or visit Thajewas Glacier. Overnight stay in Sonmarg.
Day 02 : Yatra By Helicopter Same Day & Back To Srinagar
Early morning transfer to from Sonmarg to Baltal. Departure for the Holy Cave by Helicopter from Baltal Helipad. The Helicopter start operating at 06.00 Hrs (Weather Peremiting). You will get appox. 1 hour for Darshan. Pass for priority Darshan is provided. On return you will be met by our driver. Transfer by vehicle from Baltal to Srinagar. On arrival check-in at Houseboat. Dinner and Overnight stay at Srinagar.
Day 03 : Srinagar
After breakfast visit the Mughal Gardens, Chashmi-e Shahi, Nishat & Shalimar Bagh. In the afternoon enjoy a 01 Hour Shikara ride on the Dal Lake. Overnight in the hotel.
Day 04 : Depart From Srinagar
After breakfast time free till departure. Transfer to Srinagar Airport for your flight to next destination.
01 Vehicle for all the services as per above program.
Same Day Return journey by Helicopter to the Holy Cave from Baltal.
1 Night stay at Hotel Glacier Heights in Sonmarg with breakfast & dinner.
1 Night stay at Deluxe Houseboat in Srinagar with breakfast & dinner.
1 Night stay at Hotel Shefaf in Srinagar with breakfast & dinner.
All Taxes Included
.
Amarnath Yatra Package Price With Helicopter
| | | | | | |
| --- | --- | --- | --- | --- | --- |
| Package | Single Occupancy | Twin Sharing | Extra adult | Child with bed | Child without bed |
| Standard | Rs. NA | Rs. 15500 | Rs. Na | Rs. NA | Rs. NA |
| Deluxe | Rs. NA | Rs. 26700 | Rs. NA | Rs. NA | Rs. NA |
Destination
Standard [ 3 STAR ]
Deluxe [ 4 STAR ]
Srinagar
Sun Shine / Duke / Zamrud or Similar
Houseboats
| | | |
| --- | --- | --- |
| Destination | Standard | Deluxe |
| Srinagar | Standard Houseboat | Deluxe Houseboat |
Important Notice
1. If the Helicopter does not operate due to bad weather, technical or any other unforeseen reasons, we will not be responsible for any financial loss that may be incurred by the passengers due to this. The Helicopter operator may offer the passengers an option to travel the next day. In such cases the passengers would have to pay Rs. 2500 for the vehicle retention for 1 extra night and will also have to pay for their hotel accommodation for extra night. Alternately the passengers may make their own arrangement for the stay in Sonmarg. In case the passenger is unable to perform the Helicopter journey due to the above mentioned reasons, they are entitled to full refund for the airfare
only.
2. The Helicopter travel is subject to all the terms and conditions mentioned on the Helicopter ticket. Passengers are requested to read them carefully
3. At the time of booking we require following details:
a) Full Name and Gender of all passenger.
b) Full address and phone no. of all families.
c) Details of ID card and No. that would be carried by the passenger in whose name booking is being made.
4. Following documents are accepted as valid Photo IDs: Valid Passport / Driving License / Election Card / Pan Card / Photo Id issued by Govt. / PSU and School Photo ID.
Where to book Amarnath Helicopter tickets?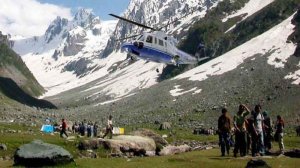 Shri Amarnathji Shrine Board had finalized arrangements with Global Vectra Helicorp Limited and Himalaya Heli Services Pvt. Ltd. for the Neelgrath-Panjtarni-Neelgrath sector and with UTair India Pvt. Ltd. for the Pahalgam-Panjtarni-Pahalgam sector, for providing helicopter services for Shri Amarnathji Yatra for the year 2020.
On-line Booking facility is made available to the intending Yatris for Shri Amarnathji Yatra on websites of the aforesaid Companies for Neelgrath (Baltal)-Panjtarni-Neelgrath (Baltal) Sector and for Pahalgam-Panjtarni-Pahalgam sector separately.
Helicopter Ticket Booking For Amarnath Yatra You Can Contact: +91-7006 904 605
This year the one way per passenger Helicopter fare, for Shri Amarnathji Yatra, towards Neelgrath (Baltal)-Panjtarni and Pahalgam-Panjtarni Sector is Rs.1804/- (inclusive of all taxes) and Rs.3104/- per person, respectively. This is because Pahalgam-Panjtarni Sector (48 KMs approximately) is lengthy stretch compared to Neelgrath (Baltal)-Panjtarni (14 KMs approximately). As a result the Helicopter ticket for Pahalgam-Panjtarni Sector is comparatively costlier than the Neelgrath (Baltal)-Panjtarni. It is an individual choice to opt for either of the sectors.
List Of Amarnath Yatra Packages by helicopter With Price
Amarnath Yatra Registration Form Helath Certificate
The Requisite Application Form & Compulsory Health Certificate (CHC) for Registration for Shri Amarnath Yatra 2020 is made available online to all the Yatris who wish to undertake the Yatra as well as through designated Bank Branches for Registration of Yatris for Yatra 2020 across India.
Download Amarnath Yatra Registration Form PDF
Download Amarnath Yatra Helath Certificate Online
Shri Amarnathji Shrine Board issues very clear advisories to inform every intending Yatris (Pilgrims) about the requirement of obtaining the prescribed 'Compulsory Health Certificate as per Format issue by Shri Amarnath Shrine Board (SASB) for Shri Amarnath Yatra' from the authorized Doctors/ Medical Institutes while seeking registration for Shri Amarnath Yatra 2020. The List of Authorised Institutions / Doctors for issuing Compulsory Health Certificates (CHC) for Shri Amarnath Yatra 2020 is constantly updated and made available online.
Shri Amarnathji Shrine Board (SASB) also introduced 'Group Registration' since 2014 to facilitate registration of those intending pilgrims who want to travel in a Group comprising relatives, friends or neighbors. To facilitate all members of a Group of pilgrims (Yatris) obtaining Registration for a particular date, SASB has initiated a scheme of 'Group Registration'.
Amarnath Yatra Trekking By Foot
Each bhandara wants to serve yatris or travellers of what other bhandaras have missed and or are not able to serve. They are the best example positive competition, a pure demonstration of win-win strategy. You will find anything you can think of to eat up there in the hills. Popcorn, Cold drink, Cotton Candy, Manchurian, Chowmein, burger, fried rice and the list is endless. However, all food served is strictly vegetarian. In short you, do not have to worry about food in the Amarnath yatra once you have reached pahalgam or baltal. You can reach amaranth cave from baltal as well as pahalgam. The pahalgam route is difficult and it takes days to reach the cave.
Belief is that pahalgam is the actual route, which Lord Shankar took to reach the cave. The baltal route is short. Back and forth is easily managed in a day, when all is by your side. When I say all by your side, the major factors are weather, your health, time you start your journey from the base camp. One should start the journey latest by four in the morning, and if you have a decent stamina, will be able to manage back to the base camp by four in the evening. You can choose to travel by Helicopter, Palki, Pony or your strong legs.